1. Search for a publication and click on the notice
2. The 'Summary' tab displays the type, publication date, deadline and description of the notice.
Switch to the 'Publication documents' tab to view the notice documents and links. If necessary, you can download the documents to your own computer.
Note: In case of an invitation to participate, the name of the tab will be 'Entire invitation to participate and attachments')

3. ESPD (EU contract notices)
If the notice has ESPD enabled, the mandatory information must be filled out on all relevant tabs in the tender. By clicking 'Show incomplete information', the system will indicate the fields where there is still information missing on that tab.
4. Entering the procurement object details
If information related to the objects being procured have been requested in the notice, fill out the required information.
The price is always mandatory information by default.
Use the 'Show incomplete information" feature to pinpoint any missing information.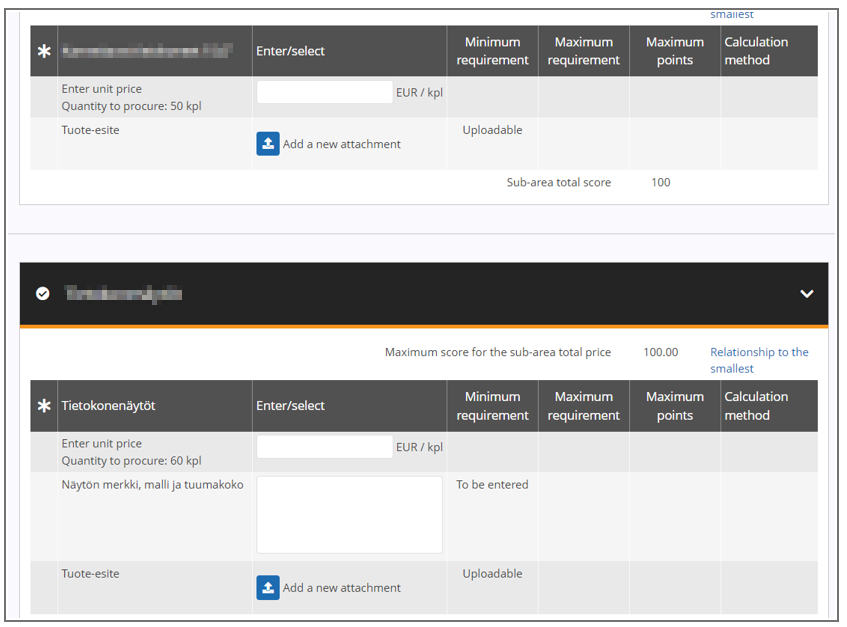 5. Proposing confidential information
If proposing information as confidential has been enabled in the call for tenders, click 'Propose confidential information'.
Click on the open lock icon

The lock closes > Proposed as confidential information

6. Submission of tender
You can add other attachments to the tender on the 'Submission of tender' page.

If the tender contains incomplete information, the system will indicate the sections that are incomplete.
Click 'Go to section' to proceed to the section with incomplete information.

Enter the necessary information:
Name of tender (optional)

By naming the tender, you can uniquely identify the tenders you have submitted

Contact person for the request to participate and telephone number
The e-mail address where the contract award decision should be sent to (only one e-mail address is allowed)

With regard to the e-mail address, it should be checked that the address will really be in use when the contracting authority makes the contract award decision. This information can no longer be changed after the closing of the deadline for call for tenders.
NOTE! The contract award decision can only be sent to one e-mail address.
Only one e-mail address will be accepted in the "Enter the e-mail address where the decision should be sent to' field. If you enter any additional information in the field, the tender cannot be submitted!
To preview the tender, click' Preview'
To submit the tender, click the 'Send' button at the bottom right.

Confirm the submission of the tender

When the tender has been submitted, the submission confirmation page opens.