A (purchase) request is a form created in the system to communicate purchase needs to those who are planning purchases (e.g. a procurement specialist). To create a new request, click 'New request' on the system front page or click 'Requests' from the top navigation, and then select 'New request'.
NOTE! If you want to invite purchase requests from people who do not have access to Cloudia Planning, administrators may create an external link to the purchase request template for submitting requests. With this link, people who do not have access to Cloudia Planning may submit purchase requests.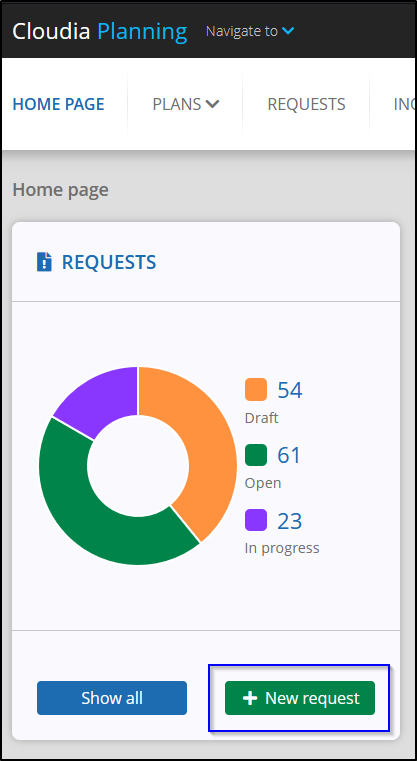 FIGURE: Create a new request from the front page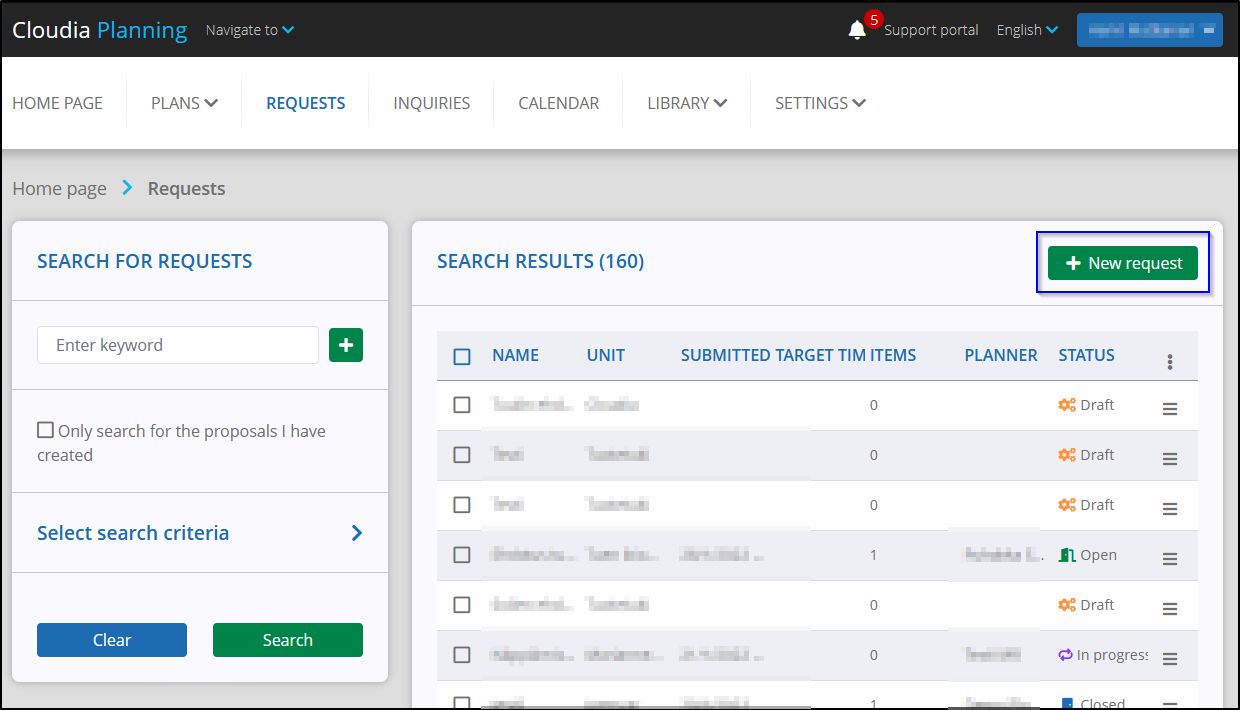 FIGURE: Create a new request in the 'Requests' section
In the window that appears, enter the name of the request and, if applicable, select the template based on which the request will be created. Purchase request templates are maintained in the library by administrators. If form fields have been added to the request template, they will be included in the request basic details.
Tip! Select a template to view the form fields the template contains. If the template you selected has any form fields added to it, they will be displayed in the view.
To create a purchase request, click 'Save'.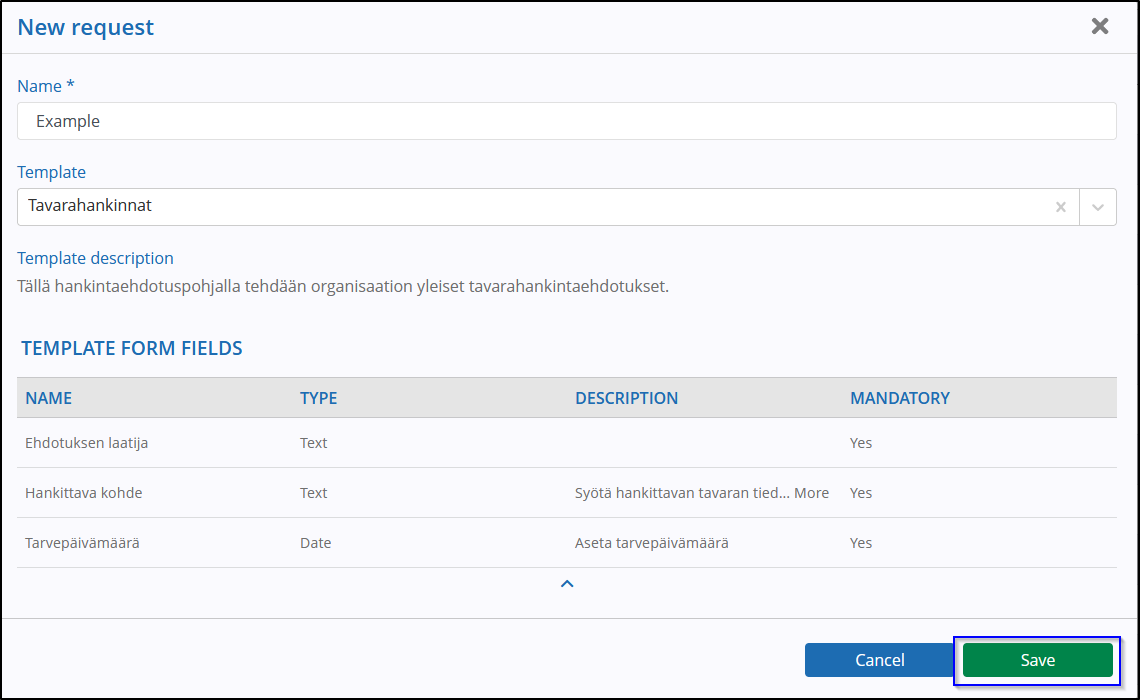 FIGURE: 'New request' window
A purchase request
Request information contains the basic details and the form fields found from the request template

Name*
Description
Target time
Form fields (shown in the Additional information section)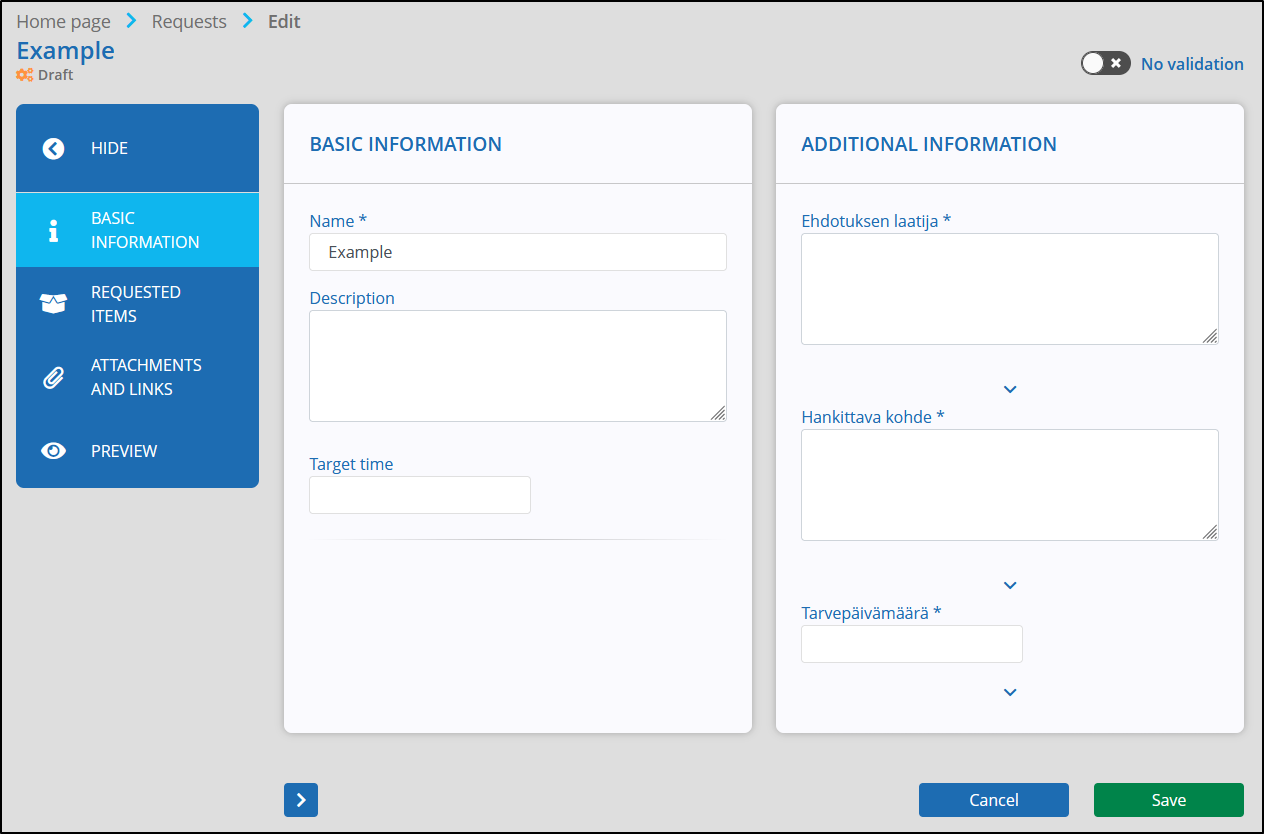 FIGURE: The 'Basic information' section
Basic information
Includes the items contained in the purchase request.
Click the plus button to add a new item, and enter a name, quantity and unit for the item
The items added to the purchase request are shown in a list from which items can be opened for editing (arrow button) and deleted (select a row and click delete).
When an item has been added to a purchase request, its status is 'open'.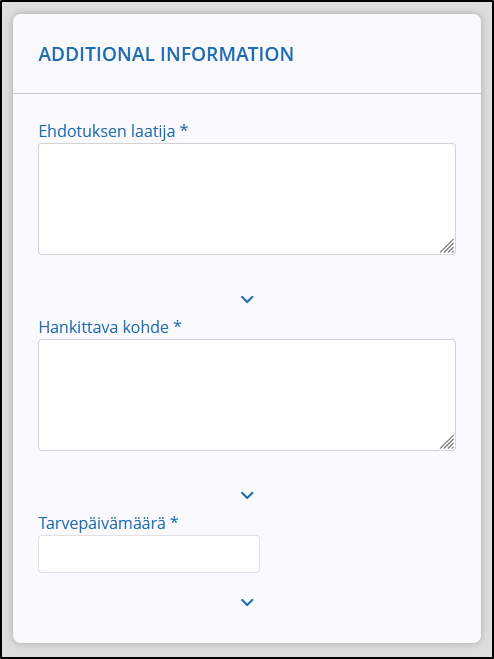 FIGURE: Additional information (shown only when used template)
Requested items
Includes the items contained in the purchase request.
Click the plus button to add a new item, and enter a name, quantity and unit for the item
The items added to the purchase request are shown in a list from which items can be opened for editing (arrow button) and deleted (select a row and click delete).
When an item has been added to a purchase request, its status is 'open'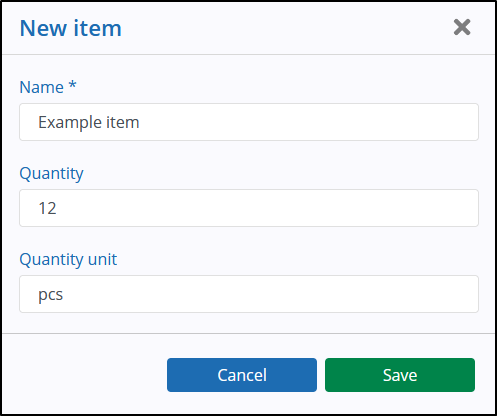 FIGURE: Add requested items to the request
Attachments and links
Add attachments to the purchase request from your computer or network drive by dragging and dropping or selecting from file manager.
Click the plus button to add a link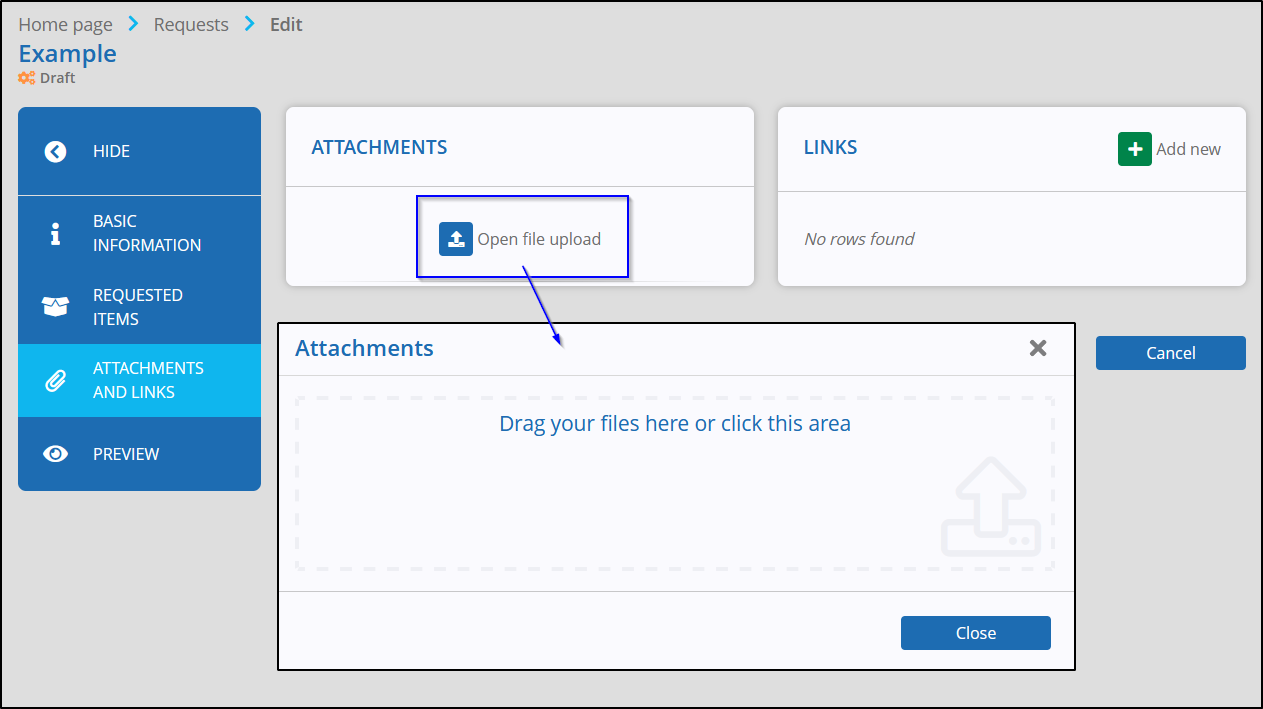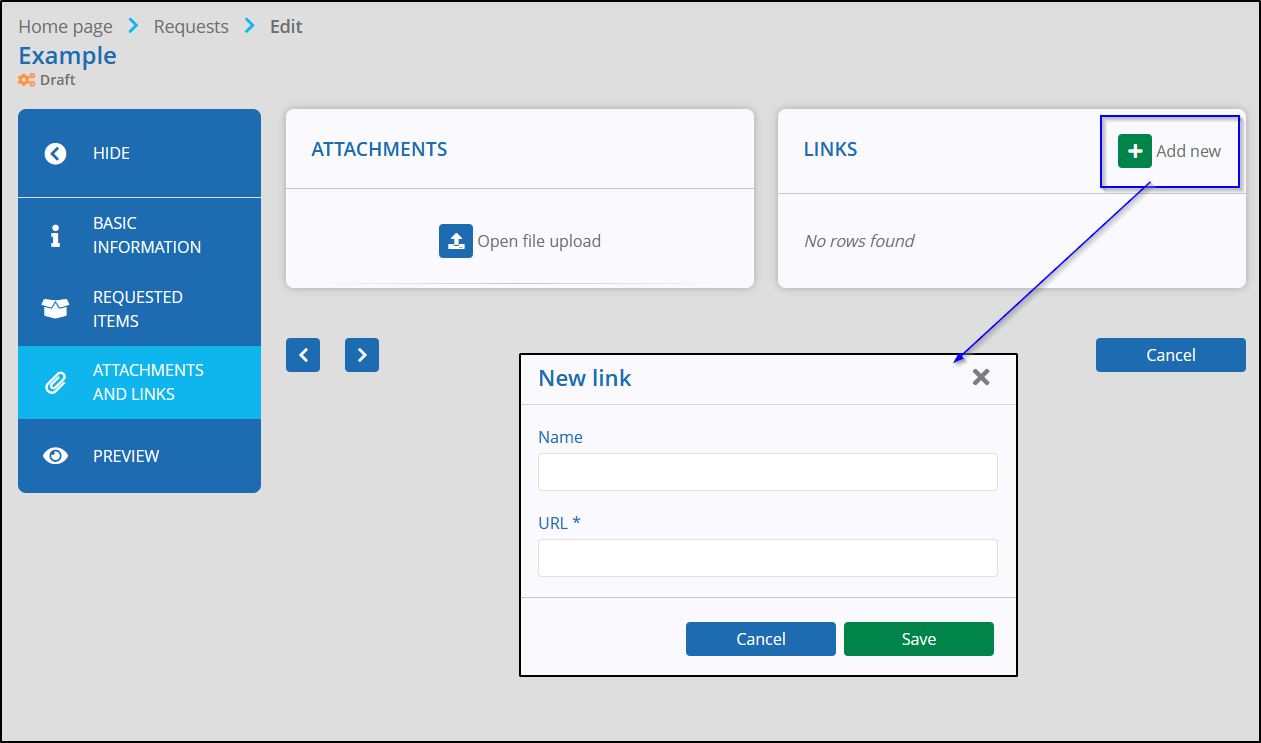 FIGURE: Add attachments or links to the request-
Preview
Lists the purchase request details
View the request details
Send the request to planner

Select a user from the list (NOTE! The request can only be sent to a user who has been assigned the planner role and is in the same unit with the creator of the request) and click 'Send'
The status of the request updates to 'Open' and it can be used for setting up a plan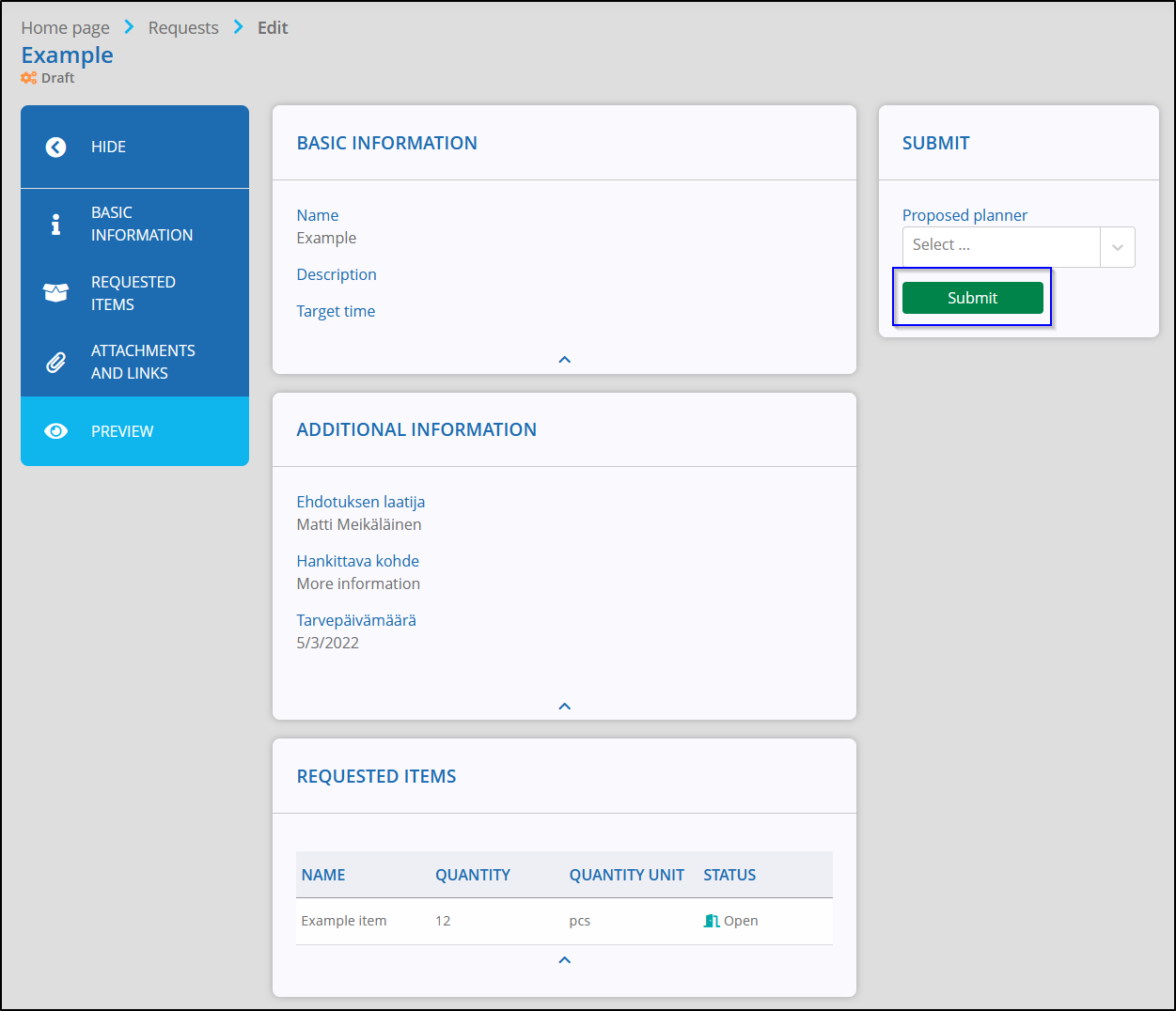 FIGURE: Select planner from drop-down menu and send a purchase request to a planner