Cloudia Contract Home page opens quick view to key sections: user's own contracts, activity, organisation's contracts and notifications.
'Your contracts' column shows statistic for state of users own contracts and listing on last edited contracts.
'Your activity' column views statistic for user's contracts outstanding and overdue milestones and tasks and also pending signatures. Recent alerts lists latest reminders related to user's contracts.
'My organisation' column shows the total number of contracts in organisation per unit and soon expiring contracts.
'Notifications' column informs upcoming service breaks and other topical issues.

Top navigation

Cloudia Contract

Click 'Home' to proceed to the home page view
Functions menu
The system functions can be found under the main levels:
Other applications
Use the options at the top of the homepage to switch to other applications
Note! Options depends on products your organisation uses

Support portal
Click to proceed to a new tab that displays the Cloudia Contract support portal.
Available languages
Change the language of the user interface if applicable
The available languages are Finnish, English and Swedish.
Note! The available languages may be limited in different organisational environments.

Notifications
Click the horn icon on the top left corner to open a list of notifications. In addition to the icon, the drop-down arrow displayed the following options: Search notifications, Create organisation notification or Create unit notification. The options displayed depend of the user's user privilege level. For function-specific instructions, click here.

Alerts
Click the bell icon to open a list of alerts. When clicked a new window will appear on the right-hand side of the application listing all the alerts that are associated with a given user. As new alerts are generated the counter will update to show the change. See further instructions from here.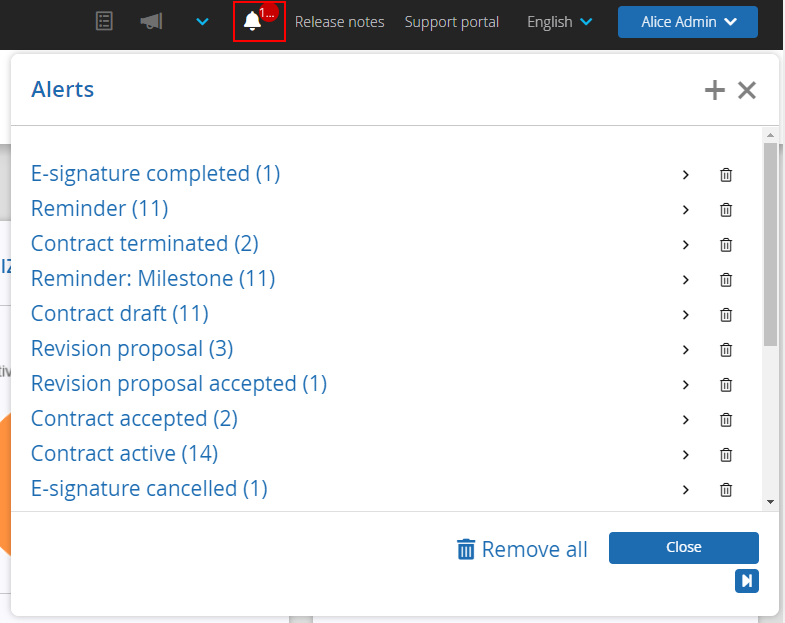 Contract cart
The contract cart feature makes it possible to make changes to contracts en masse
For function-specific instructions, click here.

Login in menu
View my profile
Switch to User Management
Alert settings allows user to choose which alarms they want to receive from the system
Log out


Menus
New
Create and import contract functions

Search
Contract and contract folder search functions, revision proposal and claims

Monitoring
Contract monitoring functions

Settings
Libraries, contract and claim templates and types