To view contract folders, click 'Search' from the top navigation and then 'Contract folders'.
The view lists the contract folders saved in Cloudia Contract to which the logged in user has reading privileges. The listed contract folders may be in progress or active. The actions enabled for contract folders depend on the user's privileges and the editing privileges defined for the folders.


Viewing and editing contract folders

Click the icon of the selected contract folder line (three horizontal lines). A menu is displayed containing the options 'View', 'Create contract' and 'Edit' for contract folders that are active, and the options 'View', 'Create contract', 'Edit' and 'Remove' for contract folders that are in progress. If the user has not been assigned editing privileges to the contract folder concerned, the user may only view the contract folder details. The organisation level administrator may edit the created contract folders even if the user privileges were restricted. Unit administrators will also be able to always edit the contract folders of their respective unit.

View created contract folders

The contract folders are listed under 'Contracts search' -> 'Contract folder'. The sorting order may be changed under 'Rearrange':


Alphabetically (A-Z)
Alphabetically (Z-A)
Newest first
Oldest first
Last modified first


View contract folder
A view listing the contract folder is displayed

Basic information
Metadata
Contracts
Value
Notifications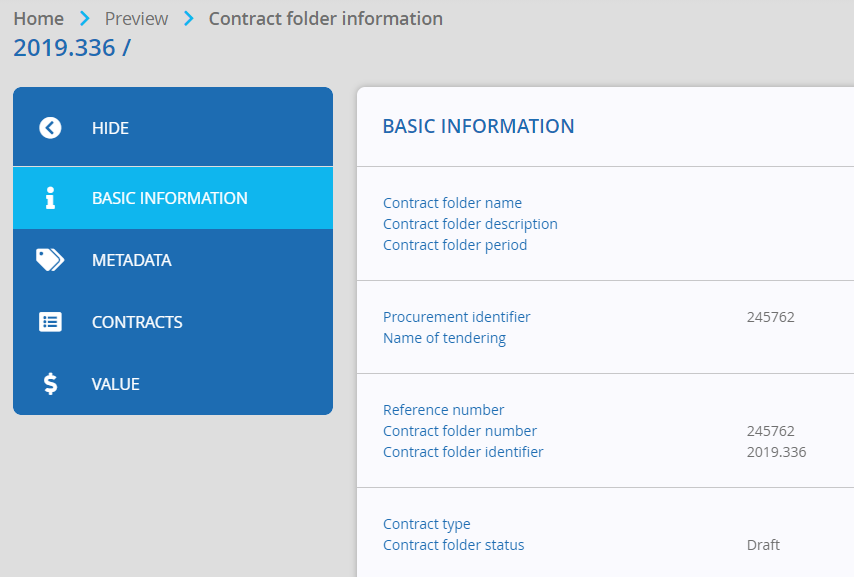 Basic information:
Contract folder name
Contract folder description
Contract folder period
Tendering identifier
Tendering name
Reference number
Contract folder number
Contract folder identifier
Contract type
Contract folder status
Organisation unit
Person in charge of contract folder
Select deputy person(s) in charge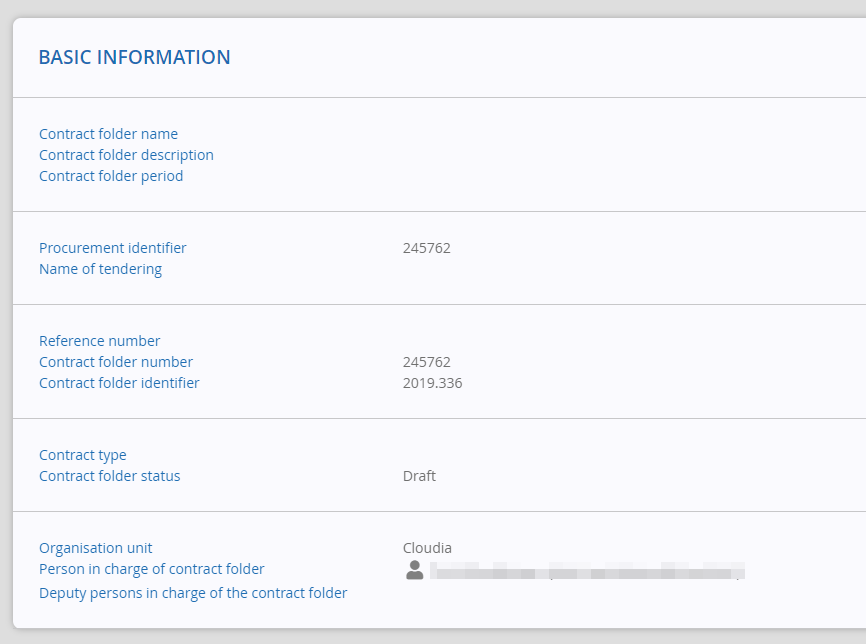 Metadata:
The view lists the contract folder metadata
Contracts:
The view lists the contract folder contracts
You may view the contracts individually and, depending on your user privileges, to following contract actions will be displayed:

View
Edit
Add contract to contract cart
Create subcontract
Import subcontract
Create notification
Copy as template
Remove
* Additional functionality
Value:
Displays the data defined as the contract folder value


Notifications:
The view lists the contract folder notifications
Create contract folder notification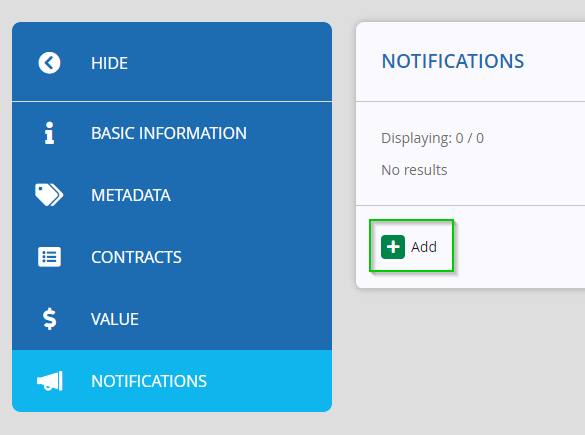 Tile:
Enter a title for the notification
Service:
Move the services to which you want to publish the notification into the 'Chosen services' box
The Desktop is an interface for Contract Users
* Additional functionality
Status:
In progress
Active
Closed
Archived
Publication period:
Define the publication period
Content:
Enter content for the notification
Click 'Save'
Edit contract folder
Contract folders may be edited subject to certain restrictions
The contract case status ('In progress' or 'Active') determines which editing actions are permitted. The user privileges assigned for the logged in user will also determine what kind of changes the user is allowed to make.
Import contract
Import new contract -> for detailed instructions, see Import contract.
Create contract
Create new contract -> for detailed instructions, see Create contract.
Delete a contract folder
Click 'Remove'
A pop-up window is displayed. Click 'Yes' to confirm or 'No' to cancel the deletion
Search features
Search for contract folders:
By default, contract folders will be listed
The search can be narrowed down by

Keyword
My contract folders
Organisation unit
Contract types
Contract folder period
Person in charge
Metadata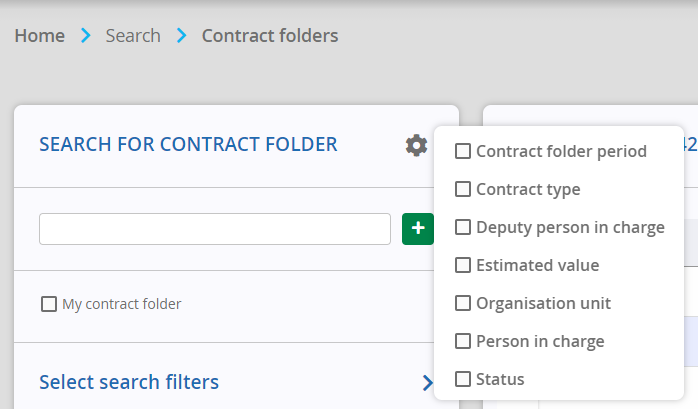 Saved search:

Save as:
Click 'Search settings' -> 'Save as'

Enter a name and description for the search
Shared description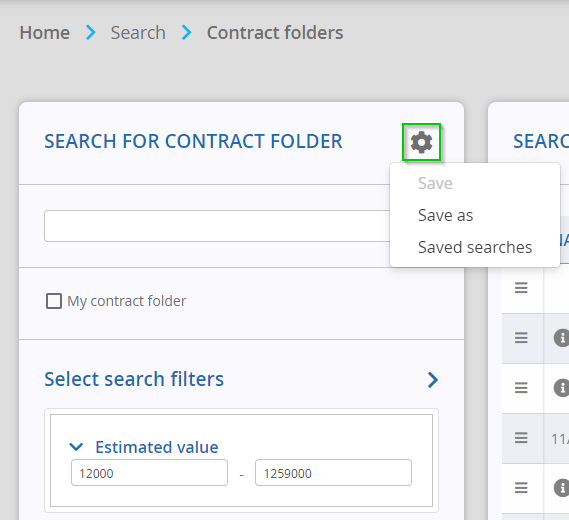 Click 'Search settings' - > 'Saved searches'

Select the search you want to use from the list
Click the star button to set the search as default
Clearing the search:
To clear the search you have carried out, click 'Search settings' -> 'Clear'
Use the options in the top-right corner of the search results list to arrange the list the way you want
You may choose to display the (main) contracts contained in each contract folder, as well as any subcontracts under the main contracts