In latest version update 5th May 2021 following updates are implemented:

Organisation structure and admin right changes
In an organization structure, the unit's admin user can see lower organisations' hidden requests.
Persons in charge and rights -feature's visibility selection does not affect admin users. Admin user can see requests, even if they are not given the rights.
Manually scored criteria Excel import will now reset the evaluation table view automatically
When Excel export and import is used for manually scored criteria, the comparison table page will update itself when import is done.
It wasn't possible to remove sub-criteria from criteria library
It is now possible to remove record's and yes/no criterias sub-criteria from criteria library

+ minor fixes to usability

-------------------------

In latest version update 30th March 2021 following updates are implemented:
Possible to submit an attachment alongside the question in Supplier Portal

Maximum size of the attachment can be max. 100 Mb


Auction creation has been improved and now is similar to basic and advanced RFx creation

Possible to select open and restricted procedure
UI for evaluation criteria selection now follows advanced RFx


________________________________________________________________________________________________________________
In latest version update 26th February 2021 following updates are implemented:
Adding persons in charge t

o a request




When creating a new request based on an old one, user can decide whether to bring over the persons in charge and rights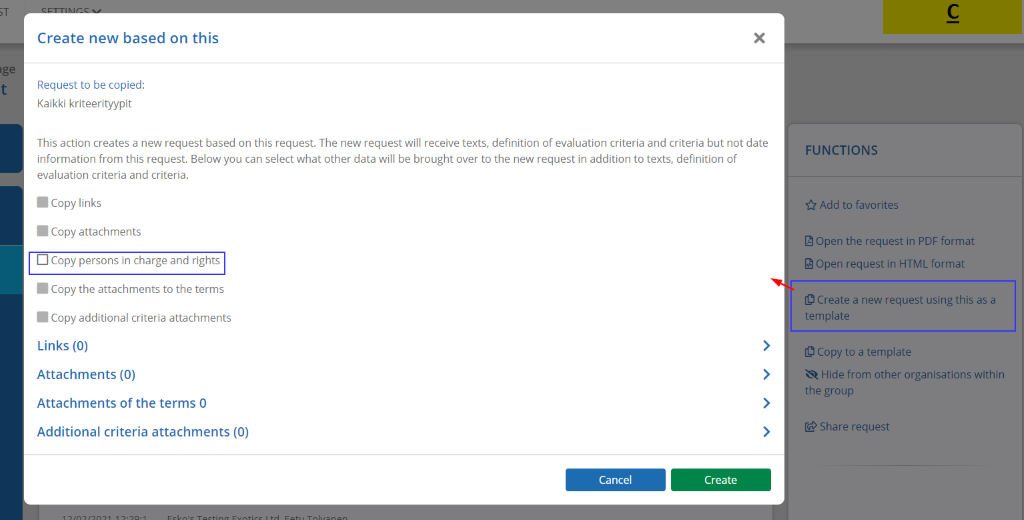 Sending a message to suppliers, who originally received the invitation




With "Send an e-mail"-feature, it is now possible to send a message to suppliers, who originally received the invitation to the request

Closing a request will now send a confirmation e-mail to sourcing organization

Sometimes when user published a request to suppliers, the confirmation email didn't always contain the e-mail addresses that received the invitation – This has been fixed

Person in charge and deputy persons in charge can now correct the responses received for the request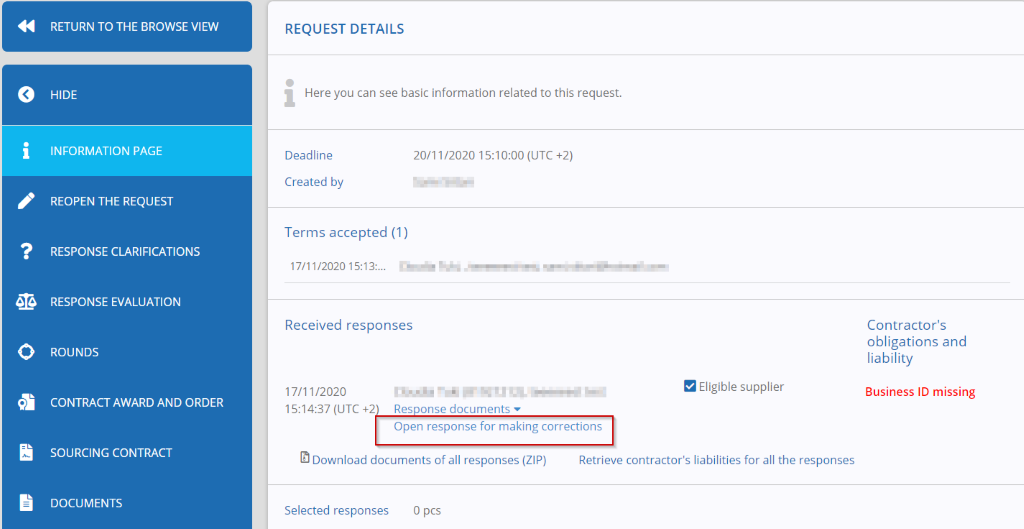 Admin user will bypass persons in charge and rights




Admin user is allowed an access to all requests with editor status, even if they don't have person in charge, deputy person in charge or editing role to the request
Modifying the deadline of a request now shows the new deadline on the e-mail. Also the e-mail's body was tweaked a bit

When modifying an active r

equest, a timestamp will be created on the info page every time user edits the request




From the Documents section, user can find all request PDFs prior to editing of the request




Publishing date and time of the request will still be the original one, not the modified one